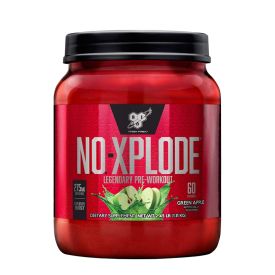 NO XPLODE 2.45lbs - Green Apple
- 275mg of caffeine
- 1.8g of Beta-Alanine
- 3g Creatine blend
- Explosive energy, focus, endurance, strength and power
SKU
BSN-NOXP-PREW-GAPL2-45LBS
Special Price
HK$490.00
Regular Price
HK$700.00
Available Pickup Store(s)
火炭華樂工業中心F座 UG15室 Unit 15, UG/F Block F, Wah Lok Industrial Centre, 31-35 Shan Mei Street, Fo Tan Fo Tan Office, Hong Kong, HK
Product Information:
Get ready to slam plates longer and workout harder. BSN has re-ignited N.O. XPLODE, the first complete pre-workout that launched in 2004 and has been helping athletes break through barriers ever since. It helps to deliver increased energy and endurance, support mental focus and muscular strength, and provide second-to-none intensity to help athletes of all levels maximize workout performance.
Suggested Use:
Mix one scoop with 4-6oz of cold water and consume 20-30 minutes before training. Do not take more than 2 scoops at a time or in 1 day. Approximately 200mg of caffeine per serving.
WHILE MIXING N.O. Xplode, DO NOT SHAKE, Stir powder with utensil.
Warning:
Consult your physician before using this product if you are taking any medications or are under a physician's care for a medical condition. Not for use by those under the age of 18 or women who are pregnant, trying to get pregnant, or nursing Store in a cool, dry place.
Company Introduction:
Bio-Engineered Supplements and Nutrition, Inc. (BSN) was founded in 2001 and since then has become a global leader in the sports nutrition marketplace through relentless dedication to creating dynamic, cutting-edge, and result-producing products. BSN products and the brand itself have won more than 35 sports nutrition awards over the course of the last six years, more than any other company in the industry.