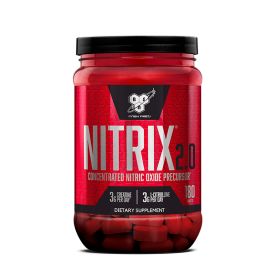 - 3 g L-Citrulline
- 3g creatine
SKU
BSN-NTX-PREW-UNF180TABS
Special Price
HK$630.00
Regular Price
HK$900.00
Available Pickup Store(s)
火炭穗禾路1號豐利工業中心7樓07室, Unit 07, 7/F, Goldfield Industrial Centre, 1 Sui Wo Road, Fo Tan, N.T. Fo Tan Office, Hong Kong, HK
Product Information:
NITRIX 2.0 is a concentrated nitric oxide precursor that provides a valuable foundation for all your supplementation and training efforts. NITRIX 2.0 supports workout performance, endurance, pumps and recovery* with 3 grams of the amino acid L-citrulline, a precursor to nitric oxide, and 3g of creatine when taken as directed.
Suggested Use:
As a dietary supplement, take 3 tablets 2 times per day.
Warning:
Consult your physician before using this product if you are taking any medications or are under a physician__s care for a medical condition.
Not for use by those under the age of 18 or women who are pregnant, trying to get pregnant, or nursing
Store in a cool, dry place.
Company Introduction:
Bio-Engineered Supplements and Nutrition, Inc. (BSN) was founded in 2001 and since then has become a global leader in the sports nutrition marketplace through relentless dedication to creating dynamic, cutting-edge, and result-producing products. BSN products and the brand itself have won more than 35 sports nutrition awards over the course of the last six years, more than any other company in the industry.