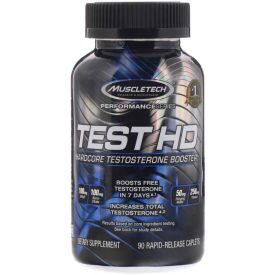 MuscleTech Performance Series Test HD - 90caps
100 mg Shilajit
100 mg Boron Citrate
50 mg Stinging Nettle
250 mg Tribulus
Dietary Supplement
SKU
MT-PSTTHD-TTTE-90CAPS
Special Price
HK$219.00
Regular Price
HK$312.80
Available Pickup Store(s)
火炭華樂工業中心F座 UG15室 Unit 15, UG/F Block F, Wah Lok Industrial Centre, 31-35 Shan Mei Street, Fo Tan Fo Tan Office, Hong Kong, HK
At the gym, at work, during class, or running errands, ISO100 Clear Protein Drink is ready when you are. With 25g of high-quality protein from 100% whey protein isolate per bottle, it's an incredibly convenient and refreshingly delicious way to get an anytime protein boost.
Suggested Use:
Refrigerate after opening. For additional information please see the item label.
America's #1 Selling Bodybuilding Supplement Brand§
100 mg Shilajit
100 mg Boron Citrate
50 mg Stinging Nettle
250 mg Tribulus
Harnessing The Power of Testosterone
The key ingredients in TEST HD™ have been suggested to support testosterone levels.* TEST HD™ requires no cycling on and off and is formulated with scientifically researched ingredients such as shilajit and boron. TEST HD™ also contains other well-known ingredients including stinging nettle root, tribulus and velvet bean.
Increases Total Testosterone
_
Microcrystalline cellulose, dicalcium phosphate dihydrate, stearic acid, croscarmellose sodium, coating (hypromellose, titanium dioxide, polydextrose, talc, maltodextrin, medium chain triglycerides), hydroxypropylcellulose, silicon dioxide, magnesium stearate, acesulfame-potassium. This product contains coconut. Processed in a facility that also processes wheat.