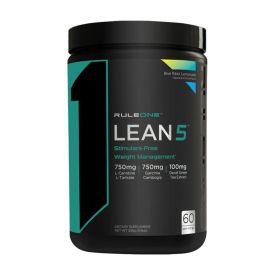 Rule 1 Lean5 336克 | 特強燒肪配方 | 有效減重
Per Serving:
- 750 mg CLA
- 750 mg garcinia cambogia extract
- 750 mg l-carnitine-l-tartrate
- 100 mg decaffeinated green tea extract
- Stimulant-free for anytime use
最低
HK$273.00
一般價格
HK$390.00
Available Pickup Store(s)
火炭穗禾路1號豐利工業中心7樓07室, Unit 07, 7/F, Goldfield Industrial Centre, 1 Sui Wo Road, Fo Tan, N.T. Fo Tan Office, Hong Kong, HK
Product Information:
Eating clean? Check. Training hard? Check. Ready to take things to the next level? Try R1 Lean 5. Made with CLA, carnitine, raspberry ketones, and garcinia and green tea extracts, our five-factor formula supports your body composition goals without stimulant ingredients. Whenever you're ready, it's ready – day or night.
Direction :
Mix one scoop with 8-10 oz. of cold water and consume on an empty stomach twice daily. Do not exceed two servings daily
WARNING:
Manufactured on equipment that processes products containing milk, soy (lecithin), wheat and egg. STORE IN A COOL, DRY PLACE. KEEP OUT OF REACH OF CHILDREN.